14 May

Touch switches: stylish elements for luxury hotels

Enhanced by the unique aesthetics of AVE designs, touch switches represent the last frontier for controlling the various functions implemented within hotels. For luxury hotels that wish to stand out with a "touch" of class and prestige, AVE offers advanced control concepts equipped with touch technology. Available in both versions for traditional and home automation systems, the touch controls are combined with various aesthetics to adapt to the style of each hotel. Today the Company offers three different lines of touch front plates, that are different in materials and finishes, but equal in the reliability of their technological heart:
Allumia Touch in natural or anthracite aluminium. A high-profile choice suitable for any location;
Vera Touch are available in five colours variants of glass for a prestigious interior architecture;
Young Touch in moulded, available in an extensive range of innovative finishes with 3D effects.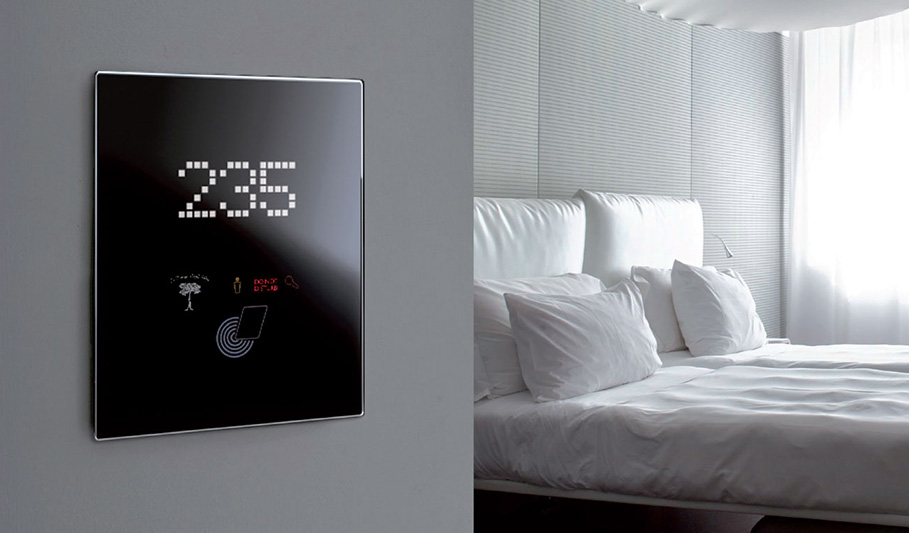 Perfectly integrated with the sophisticated Domina Hotel automation system, which contains all the AVE solutions dedicated to the world of technological hotel management, the touch technology offers a new contact with the hotel. With AVE also room readers become touch: among the proposals stands out Vip System Touch, the first device with a Touch screen front plate and transponder reader that, when installed outside of a hotel room, allows the simple automatic management of all functions related to access, occupation status of the room and "do not disturb". Available in the version with glass front plate or in the variant with plate in anodized and brushed aluminium, Vip System Touch is completely adaptable to any furnishing solution. A product of great aesthetic impact that coordinates perfectly with AVE touch series to guarantee each hotel only the best.
In the heart of Trieste, AVE solutions are protagonists inside the innovative You.Me Design Place Hotel, a 4-star struct...

AVE design and technology have been chosen to embellish a luxurious seafront service apartment built along the historica...